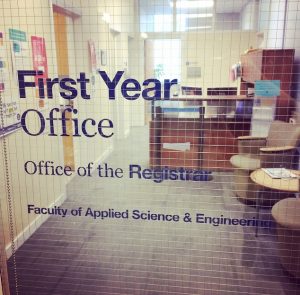 Your First Year: Frequently Asked Questions
Updated July 10, 2020
For information on current operations and modifications to our advising appointment process as related to COVID-19, you're encouraged to visit the First Year Office homepage for regular updates.
Other useful University and Faculty resources include the following:
Frequently Asked Questions (FAQs) for Current Students
(Information for incoming first-year students is located after this section)
Frequently Asked Questions (FAQs) for Incoming Students
Are you a newly-admitted first-year student joining U of T Engineering in September 2020? The First Year Office has done our best to address common questions new students have. Have a question that is not answered in the FAQ below? Contact us through our online chat, or email us at firstyear@engineering.utoronto.ca.