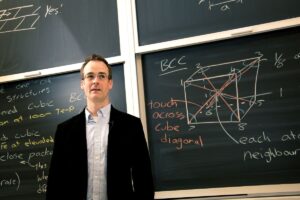 Get an Early Start on Your Courses this Summer with APS162 or APS164
We are pleased to offer APS162: Calculus for Engineers I and APS164: Introductory Chemistry from a Materials Perspective online this summer to help ease your Fall Term course load.
By taking one of these summer courses, you will earn credit toward your first year of studies, allowing you to reduce your course load for the Fall or take an elective.
APS162 online during the summer replaces MAT186: Calculus I in the fall and APS164 online during the summer replaces APS110: Engineering Chemistry & Materials Science.
Completion of APS162 or APS164 in the summer will count toward your 2023 Fall Term average and GPA.
Students who enjoy working independently and have time to devote to a course during the summer are encouraged to enrol. If you find the course is not a good fit for you, you may cancel your registration without academic penalty by August 1, 2023.
Things to consider:
Time Commitment: Although individual learning habits and prior knowledge may mean some students need more or less time, on average we recommend that you plan to dedicate approximately 20-25 hours per week for an Early Start course. This time will include viewing lecture videos, completing homework and practice exercises, working on assignments, participating in tutorials and discussion boards, and completing assessments.
Scheduling: These online courses offer flexible scheduling, allowing students to view both asynchronous and/or live synchronous lectures (which will also be recorded for later viewing), participate in live tutorials (recorded for those unable to participate live), and to complete assignments and tests remotely. Our Early Start courses will accommodate for students who are studying in different time zones. There will be fixed deadlines to submit assessments, which will be announced when the courses begin.
Pacing: Early Start courses are held during just two months (July-August), so students should be aware that the courses move at twice the speed of a normal term. This can mean that the pace can feel demanding. We suggest you should be prepared to commit several hours to the course each day, due to the fairly high volume of content that will be covered in such a short amount of time.
Technical Requirements: Please make sure that you have the recommended technology outlined in the University of Toronto's Recommended Technology Requirements for Remote/Online Learning. Courses will be organized through Quercus and may also require the use of YouTube.
Textbooks & Materials: Early Start courses will make use of an online text book which will either be free (APS162), or cost no more than $35 (APS164). No other materials will be required; details will be shared with students when the courses begin.
Help Resources: Students should plan to be proactive if they have questions about the course material (specific information about where to go for help will be outlined by instructors when the courses begin), and can also reach out to the First Year Office for general support and advice.
Dates: July 4 – August 25, 2023.
Eligibility: Students in TrackOne or any Core 8 program may take one of either APS162 or APS164. These courses are not available to Engineering Science or International Foundation Program (IFP) students.
Cost & Registration: No additional cost for new students (it's included in your full-time 2023-2024 Fall-Winter tuition). Returning students who wish to enrol in the course may do so at the standard summer tuition fee rates. Interested students from other universities must contact the Engineering Undergraduate Admissions Office at ask@ecf.utoronto.ca to inquire about registering as a visiting student.
Registration for the Early Start Courses is now closed. Thank you for your interest.
Deadline to Register: July 10, 2023 (however, we recommend that you request enrolment in advance of the July 4 start date to avoid missing content).
Please note: Course capacity is limited, and enrolment is not guaranteed. If the courses reach capacity, a wait list will be in effect until the course registration deadline on July 10, 2023. Students will be notified by email if they are enrolled or wait listed within 2-3 business days after completing the registration form.
The University reserves the right to withdraw courses or sections for which enrolment or resources are insufficient.
Short link to this page: http://uoft.me/earlystart