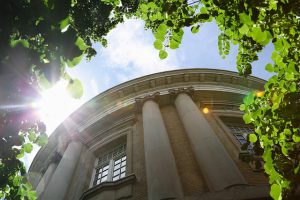 First Year Foundations programs are held during the summer months for incoming first-year U of T Engineering students.
We also encourage interested students to consider participating in the University of Toronto Engineering Academy for a refresher on core high-school-level math, chemistry and physics curriculum before proceeding to the programs listed below.
For summer 2021, all programs will be held online.
These optional programs help you to meet fellow classmates, future professors and teaching assistants, while learning more about the social and academic aspects of university.
Some programs have no cost, while others require a fee*. For questions about these programs, please contact the First Year Office.
*If you are a student in financial need, and the program fee is a barrier to your participation in one of our paid programs, please contact the First Year Office to inquire about financial assistance.

Academic Orientation
Congratulations! You've accepted your offer of admission. What's next?
Academic Orientation sessions, held in early July, are designed to guide you through your next steps as a new U of T Engineering student. The sessions provide a brief overview of what to expect during your first year of studies. Topics include: paying your fees, schedules, university resources, and more. These sessions and online modules will help you prepare for September.
This program is free of charge for new U of T Engineering students. 
Schedule (note: presentations will be tailored for international or domestic students, but you may choose whichever session best fits your schedule and situation):
Monday, July 5, 2021 from 8:30 – 10 a.m. EDT (international students)
Wednesday, July 7, 2021 from 3:30 – 5 p.m. EDT (domestic students)
Registration for Academic Orientation is now closed.
Please check here soon for a recording/online module if you were unable to attend or wish to revisit this session's content. You can also review the presentation slides and handout here:
Engineering Study Skills
These workshops held in July, August and September will cover important topics to help you study and manage your time effectively. You'll also learn tips and strategies to help you transition effectively this fall.
This program is free of charge for new U of T Engineering students.
Schedule (choose one date):
Wednesday, July 21, 2021 from 5 – 6:30 p.m. EDT
Tuesday, August 17, 2021 from 9:30 – 11 a.m. EDT
Register for Engineering Study Skills here.
Success 101: Academic Skills Mini Course
Discover some of the most important tools you will use throughout your academic career: engineering problem-solving, time-management skills, note-taking skills and effective teamwork strategies. You will also hear advice from professors, learning strategists and upper-year students about academic expectations. These sessions will be held in July and August.
This program is free of charge for new U of T Engineering students.
Schedule (choose one date):
Friday, July 16, 2021 from 9 – 10:30 a.m. EDT
Wednesday, August 11, 2021 from 2 – 3:30 p.m EDT
Saturday, August 21, 2021 from 10:30 a.m. – 12 p.m. EDT
Register for Success 101 here.
Summer Math Success Program
In this new program for 2021, students will have the opportunity to engage with an academic coach/math tutor to design a flexible individualized plan to practice math skills, build math confidence, and gain a better understanding of the math foundations upon which engineering Calculus and Linear Algebra will build. This program will be available during July & August.
This program is free of charge for new U of T Engineering students.
Register for the Summer Math Success Program here.
Engineering Design 101 ($)
Engineering Design 101 (ED101) is an introduction to first-year engineering design concepts and communication practice. Over the course of five days in August you will learn and apply the design process, write a report to the client in a professional engineering way and receive feedback from a TA, just as you will during the semester ahead. The program includes developing an in-class design project, presenting a recommended design and participating in a design hunt. Important skills are practiced such as: working in a team, using critical thinking, identifying successful research approaches, and learning professional practices – writing, terminology, engineering ethics and design for engineering economics, sustainability, and social factors.
Cost: $200
Dates: August 16-20, 2021 (deadline to register is Thursday, August 12 at 12 p.m. EDT)
Register for Engineering Design 101.
Engineering Problem Solving and Mathematics ($)
Mathematics is an essential tool for an engineer, and a major component of your first year studies. This one-week course in August will provide you with the necessary tools to build a strong math foundation and understand how engineers use mathematics to solve problems.
Topics include:
trigonometric, exponential and logarithmic functions;
relations and their graphs and limits;
derivatives; and,
an introduction to MATLAB, an industry-standard tool you will use in your first-year linear algebra course.
Cost: $200
Dates: August 9-13, 2021 (deadline to register is Thursday, August 5 at 12 p.m. EDT)