In-Course Scholarships
Registered engineering students are considered for scholarships after each academic year. While some scholarships are based on academic achievement, others have additional criteria. Ensure your Online Engineering Portfolio (ePortfolio) is current and complete. The Scholarships Committee uses information in the portfolio to select awards recipients. Additionally, the "Scholarships and Financial Aid" chapter of the Academic Calendar lists available Faculty scholarships.
U of T Awards Explorer
U of T's new Awards Explorer tool can help you explore the diverse U of T funding opportunities that recognize your achievements and financially support your studies.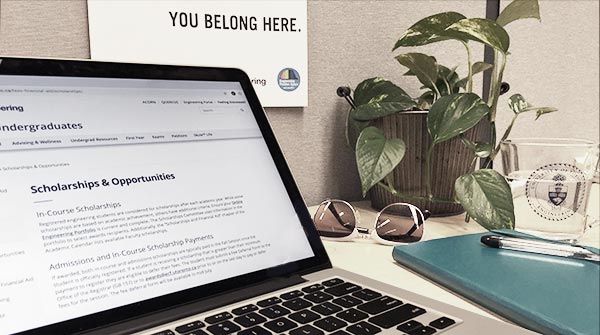 Admissions and In-Course Scholarship Payments
If awarded, both in-course and admissions scholarships are typically paid in the Fall Session once the student is officially registered. If a student is receiving a scholarship that is greater than their minimum payment to register they are eligible to defer their fees. The student must submit a Fee Deferral Form to the Office of the Registrar (GB 157) or to awards@ecf.utoronto.ca prior to or on the last day to pay or defer fees for the session. The fee deferral form will be available in mid-July.
Ontario Student Opportunity Trust Fund (OSOTF) Awards
Eligible candidates must be Canadian citizens or permanent residents and demonstrate financial need. Additionally, prior to starting a post-secondary program, candidates must have lived in Ontario for twelve consecutive months. Financial need is most easily demonstrated with receipt of OSAP for the current year. Other examples of financial need will be considered. For admission OSOTF awards, it is crucial that applicants complete the UTAPS Online Estimator to indicate financial need.International or out-of-province students are not eligible for OSOTF awards.
Internal and External Scholarships, Awards, Competitions and Grants
Human Resources Canada provides students with valuable information about financing a university education. The site also allows students to add their names to a database that notifies them of awards they may be eligible for.
Scholarship opportunities are posted as received; annual deadlines are updated once the organization updates their new application deadlines.
No Fixed Deadline
NSERC Indigenous Student Ambassadors: The NSERC Indigenous Student Ambassadors (NISA) grant aims to engage Indigenous students and fellows in promoting interest and participation in the natural sciences and engineering (NSE) by visiting Canada's Indigenous communities and schools and sharing their research and education experiences or participating in science promotion events and activities. The grant will cover costs associated with the proposed NSE promotion activity and Indigenous community or school visit. Value: up to $5,000. Additional details are available online.
NSERC Student Ambassadors: The purpose of the NSERC Student Ambassadors grant is to encourage post-secondary students and fellows to share their science and engineering experience with youth from groups that are under-represented in STEM. The grant will cover costs associated with the proposed science and engineering promotion outreach activity. Value: $1,000. Additional details are available online.
Declaring Scholarships, Fellowships, Bursaries and Grants on Your Taxes
Visit the Canadian Revenue Agency's website to learn how to report prizes and awards you have received on your taxes.
January 
University of Toronto Student Leadership Awards (former known as the Gordon Cressy Student Leadership Awards): The awards recognize graduating students for their exemplary contributions and significant impact on U of T and the university experience of their peers. Students must be nominated by a staff member, faculty member or alumnus/alumna. The minimum GPA requirement is 2.70; however, exceptions may be considered in extraordinary cases with the approval of the Faculty Registrar. Deadline: January 10, 2020.
Canadian Engineering Memorial Foundation (CEMF) Awards: CEMF undergraduate engineering awards are open to women enrolled in accredited engineering programs in Canada. There is a common application for all undergraduate awards; applicants do not apply for a particular award. CEMF ensures applicants are considered for all awards they're eligible for. Deadline extended: January 13, 2020 (midnight ET).
Laidlaw Scholars Program: The program provides students with funding to pursue research in any area of interest at U of T or anywhere in the world. Up to 25 academically strong, motivated students are selected annually. Selected students receive up to $4,800 for the first summer of research. Open to first- and second-year students at U of T. Deadline: 5:00 p.m., January 13, 2020.
Class of 3T5 Second Mile Award: Valued at $6,500, the award is given to an individual based on a combination of what they accomplished during their undergraduate years and what the Selection Committee thinks the individual will accomplish in their post-graduation life. Deadline: January 21, 2020.
3M National Student Fellowship: The fellowship honours up to ten full-time students at Canadian post-secondary institutions who have demonstrated outstanding leadership in their lives. Deadline: January 31, 2020.
ASEE Student Video Contest: Create a short video (less than 90 seconds) that relays why you're pursuing a career in the engineering profession. Open to undergraduate or graduate students enrolled at accredited colleges or universities. The first-place winners will receive $3,000 and a trip to the 2020 ASEE Conference in Montreal, Quebec. Deadline: January 31, 2019.

February
Amgen Scholars Canada Program: An immersive, 10-week program of research experience, professional development and social activities. Current undergraduate students who are academically excellent, passionate about biomedical science and interested in pursuing a career in science are encouraged to apply. The Amgen Scholars Canada Program particularly encourages applications from students who identify as part of a historically marginalized group(s) or face barriers to accessing research opportunities. No previous research experience is required to apply to this program but basic laboratory experience, such as an undergraduate laboratory course component, would be an asset. Deadline: Feb. 3, 2020.
2020 Ontario Project Management Competition (OPMC): Wideman Education Foundation (WEF) is an inclusive community that promotes Project Management (PM) competencies and skills and connects individuals and organizations to the world of Project Management. The Foundation organizes a yearly competition that promotes Project Management skills among students. Please see our video from our inaugural year. Deadline: February 21, 2020.
Minerva Canada James Ham Safe Design Awards: Develop an innovative health and safety solution! Students may submit projects they completed during the summer or design projects they've worked on or are currently working on. Open to full-time undergraduate and graduate engineering students enrolled in Canadian post-secondary teaching institutions. The first-prize winner will receive $2,000, while the second prize winner will receive $500. Please visit Minerva's website for complete details. Deadline: Students must submit their intention to apply for the award to Minerva Canada by February 29, 2020. Final Submission date is April 12, 2020.
March 
Engineering Education Teaching Fellowship Program: Do you have ideas on how to enhance engineering education and instruction? The Engineering Education Teaching Fellowship Program (E2TFP) is accepting applications for the Scholarship of Teaching and Learning (SoTL) to give students opportunities to develop their ideas in the classroom. Open to all U of T Engineering undergrads and graduate students. Deadline: March 13, 2020.
Next Founders: Next Founders accelerates the growth of Canada's most promising entrepreneurs by providing mentorship, access to capital and unparalleled entrepreneurial education taught by world-class faculty. The ideal applicant is building one of their first ventures, often has a STEM background with little formal business education, or are startup founders from top-tier accelerators, looking to complement their experiences. Deadline: March 18, 2020.
CAE Bruce Aubin SAE Aerospace Design Award and CAE William Belfry Memorial SAE Scholarship: In recognition of the importance of transportation and mobility design engineering for the future of Canada, the Canadian Academy of Engineering (CAE) has partnered with the SAE Foundation Canada to offer an undergraduate scholarship in transportation and mobility engineering and an award for university student's outstanding aerospace design. The CAE Bruce Aubin SAE Aerospace Design Award is valued at $800. The CAE William G. Belfry Memorial SAE Scholarship is valued at $2,000. The award and scholarship will be given annually to top engineering students from across Canada. Deadline: March 20, 2020.
April
University of Toronto Libraries Patricia & Peter Shannon Wilson Undergraduate Research Prize: The prize provides undergraduate students with an opportunity to reflect on their information-seeking experiences, showcase their research beyond the classroom and promote scholarship excellence at the undergraduate level at U of T. Deadline: April 13, 2020.
MPOWER Global Citizen Scholarship: Four $5,000 scholarships awarded to international and DACA students enrolled at MPOWER partner universities. Deadline: April 15, 2020.
C.D. Howe Scholarship Endowment Fund National Engineering Scholarship: The scholarship supports students enrolled in a bachelor of engineering program in a Canadian university. Up to two scholarships will be awarded. The scholarships are valued at $7,500 CAD per year, tenable for up to three consecutive years or until the first degree is obtained. If you would like to be considered for this award, please update your online ePortfolio and email Pierina Filippone at awards@ecf.utoronto.ca by April 20, 2020.
IDeA Competition: The Innovative Designs for Accessibility (IDeA) student competition challenges university students across Canada to use their creativity to develop innovative, cost-effective and practical solutions to accessibility barriers for people with disabilities. Deadline: April 30, 2020.
May
Canadian Aeronautics and Space Institute Elvie L. Smith Award: Presented in recognition and honour of the outstanding and unique contributions made by Elvie L. Smith. Award accompanied by a bursary of $5,000. Applicants must be Canadian citizens and CASI junior members in good standing. Candidate must be in the last year of undergraduate studies in January of the year the student applies for the award. Deadline: May 1, 2020.
Canadian Aeronautics and Space Institute Charles Luttman Award: Presented in recognition and honour of the outstanding and unique contributions made by Charles Luttman. The award is accompanied by a bursary of $3,000. Applicants must be Canadian citizens and CASI junior members in good standing. Candidates must be in the next-to-last year of undergraduate studies in January of the year the student applies for the award. Deadline: May 1, 2020.
Ontario Aerospace Council Scholarships for Aerospace Studies: The Ontario Aerospace Council is pleased to offer four scholarships for students going into or currently enrolled in an aerospace studies program at a post-secondary institution in Ontario. The value of each scholarship is $2,500. Deadline: May 1, 2020.
RBC Capital Markets Diversity Scholarship: RBC Capital Markets is committed to fostering a diverse workplace and promoting inclusion to fuel innovation and economic prosperity. Through the Diversity Scholarships, they wish to recognize and reward exceptional undergraduate students who are interested in pursuing careers in banking or finance. Up to eight scholarships are available. Scholarship recipients will receive $5,000 and an offer of paid employment for a 2021 Summer Analyst position. Recipients are also paired with a mentor. Deadline: May 17, 2020. 
Canadian Association of Women in Construction (CAWIC) Bursary: CAWIC is a not-for-profit organization of women employed in various construction-related fields. One of their mandates is to promote education and encourage young women to pursue careers in the construction industry. CAWIC offers bursaries to female students who aspire to careers in construction-related fields. Deadline: May 30, 2020.
June
The Global Undergraduate Awards: Recognizes top undergraduate academic work. Open to all undergraduates in almost every academic discipline and attracts submissions from over 300+ universities across 50 countries. U of T is part of the UA affiliated network. Other affiliates include Columbia, Dartmouth, NYU, UC Berkley, Stanford, UBC, U Johannesburg, HKU, IIT Bombay and U Melbourne. The best 10% of work is shortlisted as Highly Commended or Regional Winners. The top submission from around the world in each category is deemed the Global Winner. U of T provides financial support to Global or Regional Winners to attend the Global Undergraduate Summit (three-day event annually held in Dublin in November). This covers airfare, accommodation and food for the duration of the Summit in Dublin. Deadline June 2, 2020.
Jeffrey Skoll Scholarships at the University of Toronto: The Skoll Scholarship is a approved use of the funds from the Skoll Foundation to support business education for engineering students. One eligibility requirement is that a student must have taken (prior to their fourth year of studies) one of the three courses in the Engineering Business Minor (JRE300, JRE410 or JRE420). Additional eligibility requirements are posted online (UTORid login required). This year, the Skoll Scholarships will be in the amount of $10,000 with up to 40 scholarships awarded. Extended deadline: June 12, 2020.
Order of the White Rose: The Polytechnique Montreal Order of the White Rose is an annual Canada-wide scholarship created in honour of the 14 victims of the tragedy on December 6, 1989, to encourage young women in engineering studies to pursue their academic careers at the graduate level. Details are available online. Inquiries may be directed to Pierina Filippone at awards@ecf.utoronto.ca. Completed applications, along with supporting documents, should be emailed to Pierina no later than 11:59 p.m. on June 30. The Scholarship and Awards Committee will select a finalist to put forth as the University's nominee. Deadline: June 30, 2020.
July
CTAA Undergraduate Scholarship: The Canadian Technical Asphalt Association (CTAA) is offering scholarships to support students preparing for careers in the general area of asphalt and paving technology. Eligible fields of study include chemistry, chemical engineering, and construction or civil engineering. Deadline: July 1, 2020.
James Dyson Award: If you have an invention that solves a problem, they want to hear about it. The James Dyson Award is an international design award that celebrates, encourages and inspires the next generation of design engineers. It's open to current and recent design engineering students and is run by the James Dyson Foundation, James Dyson's charitable trust, as part of its mission to get young people excited about design engineering.  Deadline: July 16, 2020.
Telus Diversity in Technology Scholarship: For applicants entering their final year of a bachelor degree or diploma in the field of technology. Scholarship amount: $5,000. Deadline: July 31, 2020.
September
No scholarships with September deadlines currently posted.
October
Real Property Institute of Canada Scholarship Program: The Real Property Institute of Canada (RPIC) is a non-profit organization dedicated to the professional development of the federal real property (RP) community. To support the next generation of federal RP practitioners, the institute has created three bursaries valued at $2,875 each. Deadline: October 4, 2020.
NEXT Canada: The Next 36 is a program that accelerates the growth of Canada's most talented young entrepreneurs by providing mentorship, capital, and unparalleled founder development. Each year, they choose 36 young Canadian innovators and challenge them to build a new business venture or iterate and scale an existing idea with enormous potential. For eight months, these young entrepreneurs are mentored by successful Canadian entrepreneurs and business leaders, taught by some of the world's top faculty, and seek funding from top investors to build their venture. The Next 36 is open to students in their final two years of study or who have graduated within the past year. Applicants must be Canadian citizens or permanent residents of Canada. The program is looking for students who have displayed an entrepreneurial initiative in the past. Deadline: October 14, 2020.
WTS Toronto Chapter Scholarship: Scholarships are open to any student undertaking a degree in planning, engineering, economics, politics, the environment or another program that will lead to a career focused on transportation in either the public or private sectors. Applicants must attend an institution in the GTA or Hamilton area. Value: $2,500. Deadline: October 15, 2020.
#movethedial Scholarship for Women in STEM: #movethedial has partnered with McKesson Canada for the inaugural #movethedial Scholarship For Women in STEM, which supports the work and achievements of Canadian women in their chosen fields of study. The scholarship is administered by The Walrus Lab, the client-services division of The Walrus. The program will offer four scholarships of $5,000 and tickets to the #movethedial Global Summit to women pursuing university studies in STEM fields. Funding for the scholarships is provided by McKesson Canada. The winners will be announced at the #movethedial Global Summit on November 14, 2019, in Toronto. As part of your application, you will automatically be entered to win a ticket to the #movethedial Global Summit in November 2019. Deadline: Forthcoming.
5T3 (1953) Engineering Award: To commemorate the 50th anniversary of their graduation year, the Class of 5T3 made a commitment to create an award fund to support a scholarship for upper-year students. The award is valued at $27,609. Third-year students are invited to apply. Requirements: Canadian citizen or permanent resident, excellent academic record and financial need. Extra-curricular activities will also considered. Students must update their e-Portfolio as part of the application process. Deadline: Forthcoming.
Kordellas-Tripp Foundation Engineering Award: Valued at $6,035.98, the Award was established through a generous donation by Nicolas Kordellas and Shirley Tripp. The Award is given to students in their third or fourth year of studies. Decisions are based on financial need and social awareness. Deadline: October 12, 2020.
November
School of Cities Student Fellowship: The Award provides a forum and unique opportunities for urban-focused interdisciplinary and collaborative learning, mentorship, research, experiential and service-based learning to students on all three U of T campuses and across divisional boundaries. Open to U of T students with a strong interest and passion for urban issues. Complete details are available online. Deadline extended: November 5, 2019.
Women's Association of the Mining Industry of Canada Burge Connell Bursary: Awarded annually to an undergrad in their third or fourth year of the Lassonde Mineral Engineering program or Arts & Science Geology program. Deadline: November 1, 2019.
Women's Association of the Mining Industry of Canada Edith Tyrrell Award and Medal: Awarded annually to an undergraduate student in their third or fourth year of studies in the Lassonde Mineral Engineering program or Arts & Science Geology program. Value: approximately $1,900. Candidates must rank in the top quarter of their class and demonstrate outstanding leadership skills, as evidenced through active extra-curricular and/or community involvement. Deadline: November 1, 2019.
Nortel Institute Undergraduate Scholarship: Valued at $1,900, the scholarship is awarded to undergraduates in their second or third year of study in the Faculty of Applied Science and Engineering Faculty of Arts and Science, UTM or UTSC. Candidates are considered on the basis of financial need, academic merit and an essay. Applicants must submit an essay (maximum 500 words) on "The role and importance of nanofabrication as well as its potential impact on society." Two references required. Deadline: November 1, 2019.
Women's Association of the Mining Industry of Canada Wood Scholarship: Awarded annually to an undergraduate student in their third or fourth year of the Lassonde Mineral Engineering program or Arts & Science Earth Science program. Candidates must be pursuing studies related to a career in the mining industry and demonstrate financial need. Additional consideration will be given to students with leadership skills. Deadline: November 1, 2019.
Brooke Owens Fellowship: Paid internships and executive mentorships for exceptional undergraduate women and gender-minority students in aerospace. Created to honour the legacy of space industry pioneer and accomplished pilot Dawn Brooke Owens. Brooke Owens Fellows are selected for their talent, experience, commitment to service and creativity. Information on the application process is posted online. Please read the FAQs. Deadline: November 12, 2019.
Frank Knox Memorial Fellowships at Harvard University: Fellows are selected on the basis of outstanding academic excellence, strength of character and potential for leadership in their fields. Up to three fellowships will be awarded to students from Canada for graduate study at Harvard University in the 2020-2021 academic year. Value: $32,000 (renewable). Additional details are available online. Deadline: November 15, 2019.
Traditional Fulbright Canada Student Award: Traditional Fulbright Canada Student awards are intended for Canadian citizens who are graduate students, prospective graduate students, or promising young professionals who wish to study and/or conduct research in the United States. Awards may be held at any university, research centre, think tank, or government agency in the United States. Deadline: November 15, 2019.
The Personal's Scholarship: The Ontario Society of Professional Engineers (OSPE) offers scholarships to students completing their fourth year of studies in engineering by December 31, 2019. Submit your completed application to Pierina Filippone no later than November 23; you may scan and email your application to awards@ecf.utoronto.ca. The Faculty will review all applications and submit two students to OSPE for their consideration. Deadline: Forthcoming.
William H. McGannon Foundation Scholarship: A Canadian organization that supports risk management education and promotes the profession. The Foundation provides scholarships, research grants, and student activities. They are currently accepting applications for student scholarships. If you are a student who has an interest in risk/hazards and some industry experience, you are encouraged to apply. Deadline: November 30, 2019.
December
Canadian Student Participation in the NASA International Internship (NASA I²) through the Canadian Space Agency: As part of its commitment to support the development of the next generation of space professionals in Canada and to foster future international collaboration between Canada and other countries, the Canadian Space Agency joined the NASA International Internship (NASA I2) Project. Eligibility criteria: Canadian citizen (NASA requirement); enrolled in a Canadian university as a full-time student in an undergraduate or graduate degree program in science, technology, engineering or mathematics (STEM) in a topic of interest to the CSA and relevant to NASA's mission priorities; successfully completed minimum of four semesters of full-time studies; minimum 3.0 GPA. Complete details posted online. Deadline: December 6, 2019.
Society of Petroleum Engineers Canadian Education Foundation (SPECEF) Scholarship: SPECEF will award scholarships in the amount of $2,500 to highly-qualified students studying at an institution in Canada. Applicants must be Canadian citizens or Permanent Residents, enrolled in full-time studies, have an interest in the petroleum industry and be a member of the Society of Petroleum Engineers (SPE). All applicants must be SPE Members (free for students). If you are not a member, you can easily register for free at www.spe.org/join (select the option where Chevron sponsors the membership). Deadline: December 19, 2019.