Information for Commuter Students
A large number of U of T Engineering students are commuters. For those of you who commute to school, important and useful resources are listed below.
Have a suggestion that's not covered on this page and could be helpful to other students? Email it to registrar@engineering.utoronto.ca.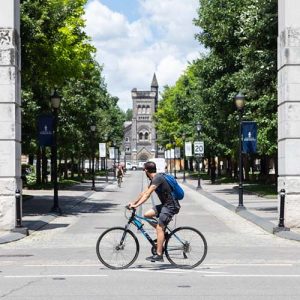 Transportation Services
Toronto Transit Commission (TTC)
The Toronto Transit Commission (TTC) is Toronto's public transportation system.
Fares
The TTC posts its fares online for everything from single tokens to weekly and monthly passes.
Post-secondary students can purchase a discounted monthly Metropass; a Metropass allows you unlimited travel in a specific month on all regular TTC services. If you purchase a Metropass, you must obtain a Post-Secondary TTC Student Photo ID as your discounted Metropass is only valid when accompanied by said ID; there is a small fee for the photo ID card.
The TTC offers priority seating on all TTC vehicles for customers with disabilities.
Travel Times
Travelling during rush hour can be difficult. According to the TTC, weekday peak hours are between 6-9 a.m. and 3-7 p.m. If possible, try to avoid peak hours in favour of times that are less busy.
Maps
TTC maps for subways, streetcars and buses are posted online.
There are a number of phone apps that are available to help you navigate the system and map your routes. One such app is Transit.
Service Updates
Transit delays can happen for any number of reasons. Keep current with delays and service updates by following the TTC's TTC Service Alerts Twitter account. The Transit app is also helpful in determining the real-time schedule of buses, trains and streetcars (whether they're scheduled to arrive at a stop in two minutes or ten).
GO Transit
The GO Transit system is the regional public transit service for the Greater Toronto and Hamilton Area, with routes extending to communities across the Greater Golden Horseshoe.
Fares
GO Transit posts their fares online. You can use a PRESTO card to obtain added savings. With PRESTO, the more you travel, the more discounted the fare is. You can also use the PRESTO card for the TTC. Information on GO's Student ID is available on the TCard website.
Most students take a GO train or bus to a TTC subway station and then take the TTC to Queen's Park Station.
Maps
GO Transit schedules are available online.
University of Toronto at Mississauga (UTM) Bus
If you live close to the U of T Mississauga (UTM) campus, you may be able to take advantage of the UTM Shuttle Bus. The shuttle will allow you to travel from UTM directly to the St. George campus.
Information on fares, schedules, accessibility, service updates and more, including a link to the Shuttle Bus app, is available on the Shuttle Bus website.

The bus stop is located in front of Hart House on the St. George campus.
Lockers
Lockers are very useful for commuter students so that you don't have to carry everything with you all day. Starting in September, the Engineering Society offers locker rentals on a first-come-first-served basis. Fees are available online.

Additional locker rentals may be available through your discipline's club.
Study Spaces on Campus
Libraries
Libraries are great to study either in between classes or after class. Below is a list of libraries close to U of T Engineering buildings:
A list of additional libraries can be found online and you can also book a group study room so that you and your group can work on projects or study together in a quiet place.
Computer Labs, Common Rooms and Study Rooms
A list of ECF labs and schedules is available online.
Common rooms are great places to hang out and relax or to work on assignments with a group. Common rooms and their locations are listed below. In addition, some disciplines have study rooms that students can use as well as computer labs.
Discipline
Common Room
Study Room
Computer Labs
Chemical
WB 238
WB 216, WB 242
Civil
GB 123
MB 400A, MB 400B
ECE
SF B650
BA 1120
GB 251E, GB 24

SF 2102, SF 2204

BA 3128

Engineering Science
BA 2128
BA 2128
BA 2124
Materials Science
WB 143
WB 158
MIE
MB 225A
MB 225B
MB 67, MB 123

MC 402

RS 303

Mineral
MB 131
TrackOne
SF 1106A
Food Options
Meal plans are not just for students who live in residence – commuter students can purchase a meal plan as well.

St. George campus has many on-campus food options to choose from. There are also many other food options off-campus on College Street, Spadina Avenue (Chinatown), Kensington Market, Baldwin Street, and Bloor Street.
Tips for Commuter Students
Avoid rush hour.
Bring a solid lunch and/or dinner and snacks.
Aim to arrive at school at least 5-10 minutes before classes start.
Become friends with students who live in residence.
Get a locker/distribute your load with bags.
Know alternative routes to your location.
Prioritize your travel time, whether it's listening to music, reading, studying or sleeping.
Practice time management skills. Put your travel time into your schedule to better figure out how much time you have and use an agenda to keep track of your time.
Frequently Asked Questions
As a student who commutes to campus, do I have enough time to participate in extracurricular activities?
Yes! However, it is important to participate in extracurricular activities that are manageable with your academic schedule. Most extracurricular activities occur after 6 p.m. or on weekends.
Will I miss out on a lot of activities because I commute?
Events typically occur during evenings or on weekends. If you are able to attend, it may be beneficial to figure out in advance which events you would like to attend, when they take place and make plans that fit within your schedule. You should also research when the last train or bus home is or stay with a friend if that's an option.
When is the best time to travel to campus and travel home?
It's best to avoid rush hour if possible; depending on your schedule, it may not always be possible. Morning rush hour is generally unavoidable, so add 10-30 extra minutes to your expected travel time. During the afternoon and early evening, rush hour is generally from 4-6:30 p.m.
Inclement weather can cause additional delays. Being aware of the weather predicted for the week is helpful in scheduling your departure times.
What happens if I'm late to an evaluation, test or exam because of a transit delay?
If you are less than 60 minutes late for an evaluation, test or exam, go straight to the evaluation room and you may still be permitted to write the test or exam.
If you are more than 60 minutes late, go straight to the First Year Office (first-year students) or the Office of the Registrar (GB 157) (upper-year students) to discuss your options.
What should I do while I commute?
Some suggestions include listening to music, reading a book, reviewing study notes, sleeping, filling in your agenda/calendar, making a to-do list of what needs to be done that day or the next day, practicing your presentations (in your head), or listening to a podcast. It's advisable to use this time to de-stress as best you can.
How do I manage my time?
A tip to manage time is to use an agenda or calendar. You can get a free agenda from the Engineering Society with all the important dates and information inside. This is very useful to schedule your days or figure out what you need to do for each class.
If you think you need additional help, talk to your Academic Advisor or schedule an appointment with a Learning Strategist.