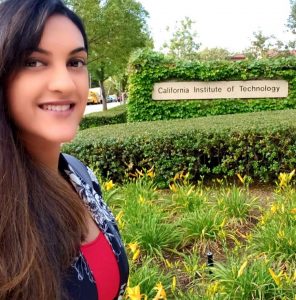 This past summer, Netra Unni Rajesh (Year 3 EngSci) participated in a learning abroad experience that saw her undertake research at the California Institute of Technology (Caltech). While she was on exchange, Netra took some time out of her busy schedule this summer to talk to us about her exchange.
What made you decide to participate in the Engineering Science Summer Research Program?
During the summer after my first year, I pursued a similar exchange program through the Division of Engineering Science. I was able to conduct research at the National University of Singapore (NUS). The experience helped me develop both professionally and academically as it enabled exposure to different techniques in biomedical research. I found it very interesting to see how research practices vary internationally and decided to participate again this year before proceeding with my PEY Co-op. I also wanted to take the opportunity to explore a different country and travel while doing amazing work!
Engineering Goes Global: Undergrad Gabriel Patron reflects on research exchange with National University of Singapore (NUS)
You've been on two exchanges! What was your experience like at NUS? What was different about your second exchange?
My experience at NUS was amazing! I worked on a project to test patients' cancer cells for sensitivity to radiotherapy. I had the opportunity to work closely with clinicians and radiation oncologists at the National University Hospital. As this opportunity was right after first year, I still hadn't learned a lot of the key foundational biology that informs many of the techniques we use in research. By the time my second exchange came around, I was able to apply more knowledge from my third-year biomedical courses. With a better foundational understanding, I was able to troubleshoot challenges we encountered more efficiently and was also able to come up with better ideas to improve our project.
What research are you working on while at Caltech?
I am working on designing and testing a novel bioreactor device to produce oncolytic viruses for cancer therapy. Scientists have engineered mammalian cells to produce oncolytic viruses that can attack and kill tumour cells. However, for a large enough vaccine dose, you need trillions of viruses which means you need to grow billions of cells! Cells are usually grown in a large device called a bioreactor. Current bioreactors are enormous units that can hold up to 50,000 litres; however, only 0.5% of that volume is being used to grow cells that can produce the virus. Our goal was to make this process more efficient by increasing cell culture densities in the system. Currently, our bioreactor design is able to grow cells at a density 10 times larger than industry.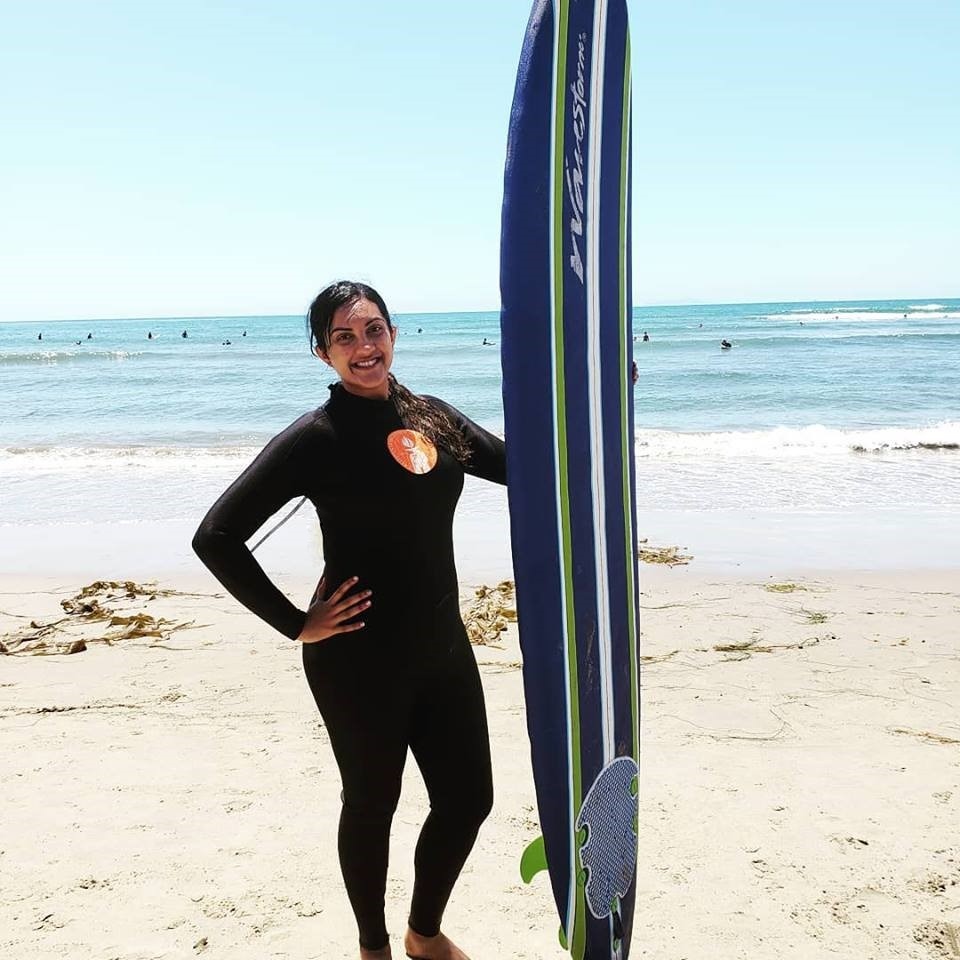 What was is it like to spend the summer in California? Do you have any favourite places that you've visited or experiences you'd like to share?
California is absolutely amazing and possibly one of the best places I've visited. It surprised me just how large and diverse the state is. Caltech is located in a small, scenic city called Pasadena. We are minutes away from the bustle of Los Angeles and Hollywood. Despite being in the middle of all this city life, California offers many opportunities to connect with nature and this is probably what I enjoyed the most! I've been a lot more adventurous this summer trying out activities like hiking and kayaking. My favourite places to hike are Echo Mountain and Eaton Canyon. When I first went on a hike up the mountain, I even saw a rattlesnake – which was a bit terrifying! I also enjoyed kayaking along the Los Angeles River. The highlight of my summer was surfing for the first time – I felt like a true Californian! We wore our Caltech wetsuits and jumped right into the waves on Mondo's beach. It was an experience I will never forget – not to mention one that required quite a bit of upper-body strength!
What tips would you give to someone at their exchange?
Going on exchange is a wonderful experience and students shouldn't be afraid to pursue any new opportunities that come their way. To make the most of your experience academically, I recommend taking advantage of the expertise around you and to learn as much as you can about your project! I was fortunate to work with an amazing mentor during my time at Caltech and we would touch base and discuss our work on a daily basis! This really helped me develop a deeper understanding of my project. I noticed that as the summer progressed, I was able to ask more relevant questions and hold interesting discussions with professionals in the field!
As with anything, you want to work hard and play hard to have a well-rounded exchange! This summer was filled with many firsts, from being star-struck in Hollywood to having dinner with former Caltech President and 1975 Nobel Laureate in Physiology or Medicine, Professor David Baltimore! These opportunities presented themselves because I was actively looking for them. You never know what amazing events or activities are going on if you don't put yourself out there.
What has been an unexpected benefit of going on your exchange in California?
I would say that I really didn't expect to be able to meet and learn from so many people. I started my exchange at Caltech much earlier than most students so initially, there weren't many interns. However, as the summer progressed I realized that our exchange program had over 900 students from across the world. I met people from Cambridge, Baltimore, India and even some fellow Canadians! Caltech itself is filled with amazing people and some of the most brilliant minds I've ever seen. I really didn't expect to learn as much as I did just by talking to them and breaking down their thought processes and ideas. I realized just how creative and innovative you can be when you are surrounded by like minds!