Every year on Dec. 6, people across the country remember the victims of École Polytechnique shooting and raise awareness about gender-based violence. At U of T, events are taking place across all three campuses for the National Day of Remembrance & Action on Violence Against Women.
On Dec. 6, 1989, an armed man entered the École Polytechnique in Montreal. He shot 28 people, killing 14 women, before turning the gun on himself. The shooter proclaimed his hatred for feminists, targeting female engineering students for pursuing a career he believed should be occupied exclusively by men.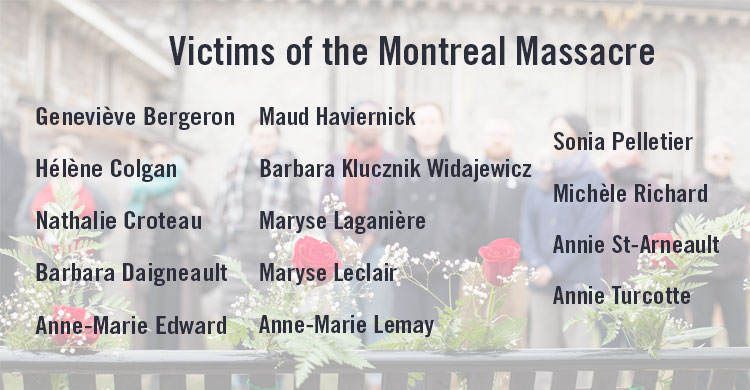 The killer failed to scare women out of the sciences. This year, for example, a record number of female students enrolled in U of T's Faculty of Applied Science & Engineering.
For the past two years, women have made up 40 per cent of first-year engineers at U of T – the highest proportion in Canada. The number of female engineering faculty members has also doubled in the past decade.
Deepa Kundur, chair of Engineering Science and a professor in The Edward S. Rogers Sr. Department of Electrical & Computer Engineering, says the École Polytechnique shootings drove home the role universities need to play as welcoming and inclusive spaces for everyone.
Kundur was in her first year of engineering at U of T in 1989.
"The university, the educational system is a very special and important place and it's important to value education, especially in fields like STEM where it provides opportunities for people where diverse backgrounds and opinions are needed very much," she says.
"For me it became a significant focus and is essentially why I stayed in the university environment."
While the enrolment numbers indicate a positive direction for women pursuing science disciplines, there are still hurdles for women in the industry.
U of T Engineering students Elizabeth White (Year 4 ChemE) and Julia Filiplic (Year 4 MechE) say they are fortunate to have families who encouraged them to pursue a career about which they were passionate.
"I was really lucky in a sense that no one told me I couldn't do it," says White.
But both students say they have female friends and classmates who were discouraged by their families from studying engineering or male-dominated engineering disciplines.
In class, Filiplic says some of her male classmates would dismiss her ideas while White has overheard male students calling a female student "bossy."
"Some people are afraid of change and are afraid of having new perspectives and being told that their idea of something is maybe a little bit outdated," says Filiplic. "To be able to go forward and know you're changing things and you have the support of other women and other people – it's exciting and it's better when you know you can do it safely."
White and a group of engineering students are creating a monument to honour victims of violence against women – this year focusing on missing and murdered Indigenous women, girls and two-spirit people. The structure will be on display on King's College Circle on Dec. 6.
Other events commemorating the Day of Remembrance at U of T include a ceremony at the Great Hall at Hart House on the downtown Toronto campus, a rose vigil at U of T Mississauga and a women's writing circle at U of T Scarborough.
Kundur says she's glad these kinds of discussions are happening and that people are becoming more open and willing to talk about tough issues.
"Equipping students with values and an understanding of societal impacts and the ethics of what they do I think will make them stronger graduates who will have a greater impact, not just technically but in the larger landscape of things," she says.
Original article published at U of T Engineering News. By Romi Levine. December 5, 2017.
---
If you or someone you know is a victim of gender-based violence, here are resources available to you near your campus