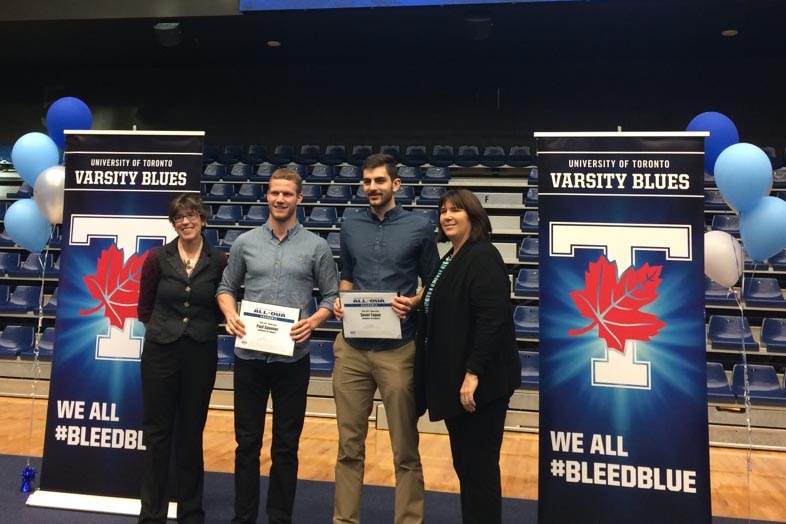 The University of Toronto honoured student-athletes from across all faculties at the eighth annual Academic Excellence Breakfast on November 21.
The ceremony recognized student-athletes who, while competing on a varsity team, earned an 80% average or higher in all courses they were enrolled in during the 2016-17 academic year.
Awardees received special pins to mark the achievement – enamel for first-time winners, bronze for second, silver for third, gold for fourth, and diamond for students earning the award five or more times during their intercollegiate athletic career.
"Receiving the Academic Excellence Award is special to me. I didn't even know the award existed when I got here in my first year, but once I got it the first time it became the motivation to not stop pushing to get it every time. It's a reminder to me that when the going got tough, I got going: I pushed through and I'd like to think that I came out better for it," said Brandon Hadfield (Year 3 EngSci).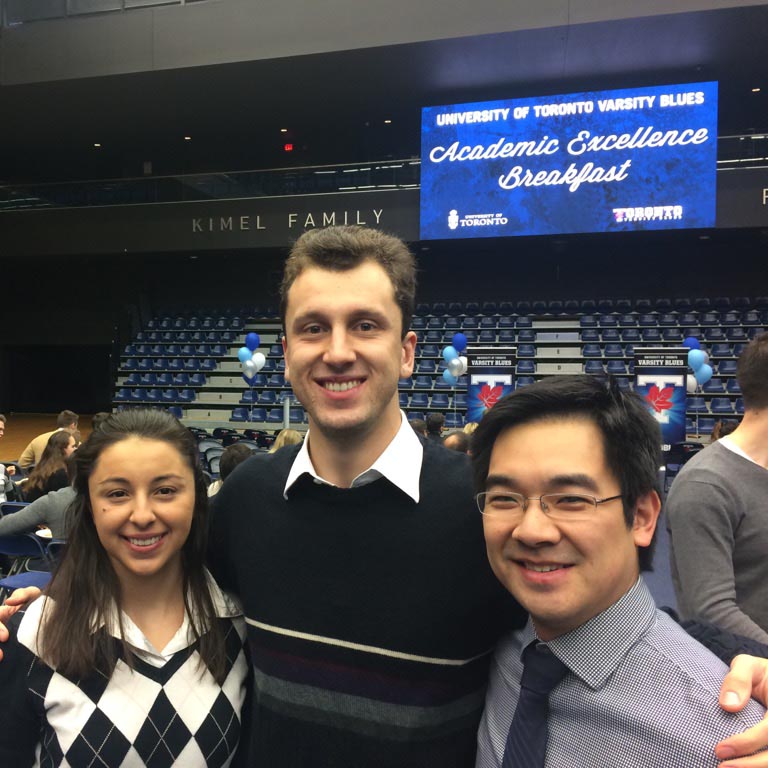 The 2016-2017 U of T Engineering Varsity Blues Academic Excellence Award recipients are:
Jackson Banbury (1T7 MechE, MIE MEng candidate) – Men's Lacrosse
Corinne Bertoia (CivE MASc candidate) – Women's Lacrosse
Matthew Chen (MSE 1T7, MSE MASc candidate) – Rowing
Eric Deare (Year 2 MSE) – Mountain Biking
Keith Eriks (Year 4 MechE) – Men's Swimming
Brandon Hadfield (Year 3 EngSci) – Baseball
Matthew Hart (MinE 1T7 + PEY) – Men's Water Polo
Emil Larsson (MechE 1T7) – Men's Track and Field
Beston Leung (Year 3 CompE) – Fencing
Lynn Li (ChemE 1T7) – Women's Lacrosse
Jonathan Luk (MechE 1T7) – Mountain Biking
Scott Maguire (MechE 1T7) – Men's Rugby
Anthony Nassif (MechE 1T6 + PEY, MIE MEng candidate) – Mountain Biking
Osvald Nitski (Year 3 MechE) – Men's Swimming
Kamran Ramji (Year 2, EngSci) – Rowing
Yusuf Shalaby (Year 4 IndE) – Men's Squash
Maheyer Shroff (Year 4 EngSci) – Mountain Biking
Paul Spooner (Year 4 MechE) – Men's Water Polo
Truman Tai (EngSci 1T7) – Golf
Sever Topan (Year 3, CompE) – Men's Water Polo
Calvin Vaughan (Year 3 CivE) – Football
Adam Voogel (Year 4 EngSci) – Mountain Biking
Jacob Weber (Year 3 EngSci) – Curling
Tanner Young-Schultz (Year 4 CompE) – Baseball