Hackathon: Clarke Prize Environmental Design Challenge
January 27, 2024

-

January 28, 2024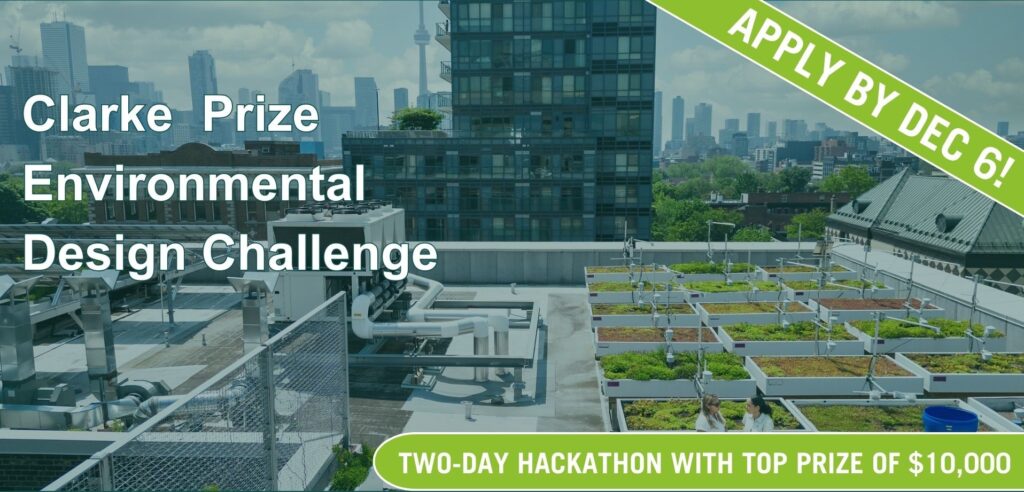 The Clarke Prize Environmental Design Challenge is a two-day hackathon, exclusively for undergraduate engineering students. Put your creativity and problem-solving skills to the test as you come up with new ideas to tackle real-world environmental challenges. Collaborate with peers, learn from experts and turn your innovative ideas into impactful solutions.
In this intensive learning experience, students will hone their leadership development and communication strategies. Participants engage in a cumulative design challenge pitch and proposal before a panel of judges with a top prize of $10,000.
Your journey towards engineering a better world starts here! Register for the hackathon as an individual or a team by December 6.
When: January 27 to 28, 2024, from 9 a.m. to 5 p.m.
Where: U of T St. George Campus
Who: Faculty of Applied Science & Engineering, Undergraduate students
How: Apply as an individual participant or as part of a pre-formed team by December 6, 2023.